2020 Digital Commerce Ecosystem Map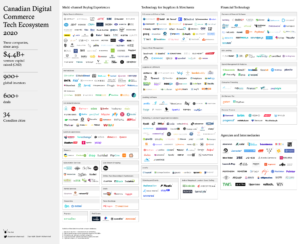 One of my favourite rituals is mapping out the digital commerce ecosystem in Canada, and I'm very excited to release the 2020 version of the infographic (as seen above). I first published a market map in 2016, which was then followed by an updated version in 2018. The original version in 2016 highlighted 114 companies and the most recent version now features over triple that amount. Each time I do the analysis I'm amazed by the continued momentum in the sector.
A few disclaimers before I proceed further: the infographic is by no means exhaustive, companies can belong to more than one category, and acquired startups are noted as such with an asterisk beside them. See below for more details on how to get added or provide feedback.
Now is a great time for startups to be building the future of commerce here in Canada. According to eMarketer, e-commerce will account for 8.7% of all retail in Canada in 2020, representing a 27.9% increase compared to 2019. As e-commerce penetration grows, so too does the opportunity to create rich and meaningful multi-channel buying experiences for consumers.
The COVID-19 pandemic has also aggressively accelerated many secular growth trends that are actively reshaping how people buy and sell goods and services. E-commerce penetration rates in North America have benefited from a huge boost due to the pandemic. According to a Forbes analysis that cites CCInsights, there has been a 129% year-over-year growth in U.S. and Canadian e-commerce orders as of April 21, and an impressive 146% growth in all online retail orders. And according to QuantumMetric, online basket conversion rates increased 8.8% in February, reflecting a level of shopping urgency typically seen during Cyber Mondays. If there was a time to seize on the opportunity in digital and omni-channel commerce, it's now. 
As if secular e-commerce growth trends and a boost from the pandemic weren't enough, Canada is also benefiting from the cultural effects of success stories such as Shopify and Lightspeed. Another Amazon is potentially being built right here. Investors have been taking note of the excitement, with over CAD $4 billion in venture capital having been poured into Canadian digital commerce startups since 2015.
The 2020 map pays a nod to companies that are playing to the themes mentioned above. The core categorizations have remained consistent relative to previous versions, and are defined below:
1. Multi-channel Buying Experiences
Companies in this category are developing technologies that allow consumers to seamlessly experience commerce across all channels (i.e. online or in-store), and directly or indirectly make it very easy for customers to discover new products, services, and experiences. The fundamental value propositions demonstrated by companies in this category are increased convenience, personalization, and transparency, all of which have become cornerstones of the modern buying experience.
2. Technology for Suppliers and Merchants
Companies in this category are largely serving the B2B market, and are developing solutions designed to help sellers increase the speed and efficiency of their services across the commerce value chain. Key capabilities provided by startups touch on everything from core point-of-sale and supply chain operations (i.e. supply chain management, logistics and fulfillment, and last-mile delivery) to marketing, loyalty, and customer success management. The "enabling software" subcategory is used as a catch-all for startups providing other types of capabilities to B2B clients, such as facilitating try-before-you-buy experiences or assisting with front-line employee management. 
3. Financial Technology
Companies in this category are making it easy for both merchants and consumers to access, underwrite, and manage finances and payments. On the one hand, merchants need access to payment technology to power customer transactions, financial capital to grow their businesses, and software to manage spend and pay employees. On the other hand, consumers need access to easy financing options and tools to help them increase their purchasing power. The startups in this category provide all of these capabilities and more.
4. Agencies and Intermediaries
As the Canadian digital commerce ecosystem grows, so too does the role of service providers that help new businesses get off the ground and scale across the omni-channel. This category on the map specifically highlights agencies and intermediaries that work closely with founders, retailers, and landlords to develop authentic and creative brands and experiences.
The purpose of this exercise is to shine a light on the progress being made in Canada as it relates to building the future of commerce, and serve as a reminder of the opportunities that lie ahead. To the companies I may have missed — please submit the form at the bottom of this page so you're on the next version 🙂 . If you have been included and have ideas around how the analysis could be improved, I would love to hear from you too.
And one more thing. I spend my days investing at Wittington Ventures. Commerce is a big area of focus for our team and it's what I spend the bulk of my time on. If you're building in the space or just want to connect and exchange thoughts/ideas, my DMs are always open!
Have any questions or thoughts on these maps?
Looking to be included? Get in touch.