2022 Digital Commerce Ecosystem Map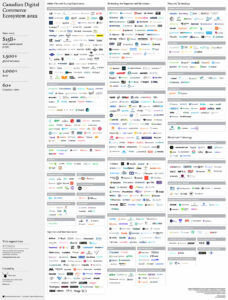 It's crazy to think that I have been mapping the Canadian digital commerce ecosystem for six years now. Very pleased to share the latest version of this exercise, which features approximately 700 companies. All Canadian and doing amazing work!
My intention behind doing this has always been to recognize and celebrate our collective potential to make a global impact. We've got the people. We've got the ideas. And we've got the infrastructure that can sustain the two.
I first published a market map in 2016, which was then followed by updated versions in 2018 and 2020. You can see all the historical maps cataloged here. The original version in 2016 highlighted 114 companies. The most recent version now features over six times that amount. Each time I do this analysis I'm amazed by the continued momentum in the sector. 
As per usual, I'd like to emphasize a few disclaimers before proceeding further: The infographic is by no means exhaustive and companies can belong to more than one category. This is a very painstaking exercise, and there is zero intention to forget about anyone! If I missed your company, please feel free to complete the form at the bottom of this page to be included in the next version. The map is also meant to highlight insurgent companies. As such you won't see a lot of "big name" incumbents on here.
There is no doubt that Canada is home to some of the most iconic consumer brands (i.e. Lululemon), technology-forward retailers (i.e. SSENSE), and commerce-enabling software providers (i.e. Shopify) in the world. The map covers so many insurgent companies that are working tirelessly to be the next big global success story. These businesses are based out of over 60 Canadian cities, have raised in excess of $15 billion in capital since 2017, and have attracted interest from hundreds of prominent investors the world over.
Now is a great time for startups to be building the future of commerce here in Canada. As recently reported by Shopify, global retail sales growth will continue to rise and take up more retail market share. According to eMarketer, online retail sales will reach $6.17 trillion by 2023, with e-commerce websites taking up 22.3% of total retail sales. 
As online commerce grows — and brings with it an expectation for merchants to become more savvy selling across multiple channels concurrently (physical retail included) — there needs to be a clear focus on staying on top of new technologies that can provide an edge. It's also important for incumbent merchants to study insurgent digitally native brands and retailers to understand how they are coming to market with a technology-first DNA.
The 2022 map pays a nod to companies that are playing to all of these exciting themes and trends. There are so many startups noted in there that can help give your business an edge — so study those names and logos closely! Or better yet, reach out to these companies directly to learn more about their offerings. 
The core categories covered in the map have remained largely consistent relative to previous versions, but there are some exciting new additions. As per usual, I've defined each of these categories below:
1. Multi-Channel Buying Experiences
Companies in this category are developing technologies that allow consumers to seamlessly experience commerce across all channels (i.e. online or in-store), and directly or indirectly make it very easy for customers to discover new products, services, and experiences across a multitude of categories. The core value propositions demonstrated by companies in this section of the map are increased convenience, personalization, and transparency, all of which have become cornerstones of the modern buying experience.
2. Technology for Suppliers and Merchants
Companies in this category are largely serving the B2B market, and are developing solutions designed to help sellers increase the speed and efficiency of their services across the commerce value chain. Key capabilities provided by startups touch on everything from core point-of-sale and supply chain operations (i.e. supply chain management, logistics and fulfillment, and last-mile delivery) to marketing, loyalty, and customer success management. The "Other Enabling Software" subcategory is used as a catch-all for startups providing other types of capabilities to B2B clients, such as facilitating try-before-you-buy experiences or assisting with front-line employee management. 
3. Financial Technology
Companies in this category are making it easy for both merchants and consumers to access, underwrite, and manage finances and payments. On the one hand, merchants need access to payment technology to power customer transactions, financial capital to grow their businesses, and software to manage spend and pay employees. On the other hand, consumers need access to easy financing options and tools to help them increase their purchasing power. The startups in this category provide all of these capabilities and more.
4. Blockchain Technology
This is a new category in the 2022 map. The Web3 / crypto / blockchain world exploded over the past two years during the height of the pandemic. I have written about this general space a few times already in the recent past (see here and here). I'm of the view that we're in the first cycle of innovation here where a lot of solutions are still looking for problems. But it's exciting to study how people are anticipating blockchain-powered technologies will meaningfully transform how we engage in commerce — whether it's through better supply chain tracking capabilities, digital collectibles and NFTs, the metaverse, and more. As we look to come out on the other side of this crypto winter we currently find ourselves in, I hope the Canadian startups noted on the map play a significant role in serving the market.  
5. Agencies and Intermediaries
As the Canadian digital commerce ecosystem grows, so too does the role of service providers that help new businesses get off the ground and scale across the omni-channel. This category on the map specifically highlights agencies and intermediaries that work closely with founders, retailers, and landlords to develop authentic brands and creative buying experiences.
Another area that I've alluded to in the map – albeit more discreetly – is that around sustainability and circularity. These themes are becoming more relevant in the world of commerce, especially considering the waste produced by the retail industry. Merchants are under pressure to rework several parts of their businesses (and business models) to reduce their impact on the environment. This is another area that I see a lot of Canadian startups doing interesting work in, and I've highlighted them accordingly. 
To bring it all together, the purpose of this exercise is to shine a light on the progress being made in Canada as it relates to building the future of commerce, and serve as a reminder of the opportunities that lie ahead. To the companies I may have missed — please submit the form at the bottom of this page so you're on the next version. If you have been included and have ideas around how the analysis could be improved, I would love to hear from you too.
Before I let you go, and as I reflect on this exercise, I'm reminded of the hurdles Canadian founders sometimes have to overcome to reach their goals. It's quite amazing to see the momentum in our commerce ecosystem when considering the fact that Canadians have less access to funding per capita (vs. the U.S. for example), and there are fewer commerce-related venture capital funds, corporate funds, and consumer brand focused accelerators / incubators based in the country. Being on the ground, I also observe that there's still a lack of clustering, organized community building, and support groups – specifically for founders focused on building next-gen brands. And a lot of times, particularly for founders who belong to a minority group, there are limited pathways to national and global mentorship. If I may ask, let's do more as a community to address some of the ongoing challenges. If we can achieve what we have despite these challenges, can you imagine how much further we can go if we addressed them?
Thanks for getting this far and reading my thoughts. My inbox is open for anyone looking to connect and continue the conversation. 
A special note to all the people who helped make this possible:
This was the first time I brought together a little army to help me put this map together. I want to give a big thanks to my interns Ekam Sidhu and Isabelle Gan for their incredible work. And a sincere thanks to Larry Chan of Rosenzweig & Company for putting us all in touch.
I need to thank my team at Wittington Ventures for always supporting my work and crazy ideas. I also want to give a shout out to the team at Adyen Canada for their eyes on this exercise (👋 Ashley Teo, Soraia Gallo, and Sander Meijers).
Last but not least, thanks to all my dear friends for your continued support and guidance. You know who you are. I appreciate you continuing to motivate me to do this.
Have any questions or thoughts on these maps?
Looking to be included? Get in touch.